This week is
National Chemistry Week
- October 20-26!
Here are
some information and activities
for grades 4th-6th from the American Chemical Society.
You can learn more about the chemical elements in the world at
periodictable.com
. This website has fantastic images associated with each element, as well as how they are typically found or used.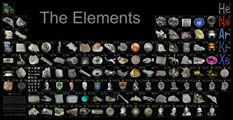 The science festival also wants to get more involved with the elements for April! Please share the news below with artists and scientists!
Central Elements
is a vivid streetscape of painted storefront windows representing science through the partnership of an expert, artist, and a chemical element. This event is a collaboration of the Cambridge Science Festival, Central Square Business Association, and the Central Square Cultural District to use Central Square as a cultural lab to further the CSF mission to make STEAM accessible, engaging, and fun for all! Each window will represent different chemical elements and include a blurb with more information.
Call for Artists
Looking for artists who work in any medium that could be articulated and displayed in a storefront window. Artist will pair with an expert on their chosen element or molecule.
Call for Experts
Interested in unique science outreach and collaborations with artists and business owners? Help the festival team curate a list of 15-20 interesting elements and molecules for artists to depict. Pair with an artist to take over a storefront window with art and create a blurb description of the element or molecule with the artist.
Minimum commitment: One introductory and brainstorming meeting with full group; 2-3 meetings with your paired artist/expert; stand by your piece on Sunday, April 27, 2014 from 2-4pm.
Please contact Sung Kim
sungmi@mit.edu
with questions or to express your interest in getting involved! More details to come at: http://www.cambridgesciencefestival.org/GetInvolved/Participate.aspx