Friday, April 15th
Sunday, April 17th
Monday, April 18th
Wednesday, April 20th
Thursday, April 21st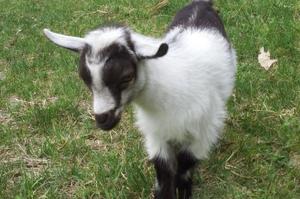 One of the Nigerian Pygmy goat at the Mass
Audubon Habitat in Belmont. Via Mass Audubon.
Friday, April 22nd - EARTH DAY!
Saturday, April 23rd
Sunday, April 24th:
You've had all winter to stay indoors: come on out and join us for some refreshing air and scintillating science!
----------------
E. Rosser is a science writer and mechanical engineer currently wrapping up a degree at MIT. Her favorite outdoor activities include hiking, canoeing and kayaking, camping, and sleeping out in the backyard in her hammock. She can't wait for warm weather this spring!